This is what has been demonstrated by the exclusive survey conducted by L'Assurance en mouvement and ITESOFT *. Despite 63 billion euros of investment in information technologies in Europe in 2018 **, 7 out of 10 insurance companies consider that the market, customer and regulatory context is making it necessary to further reduce costs and processing times.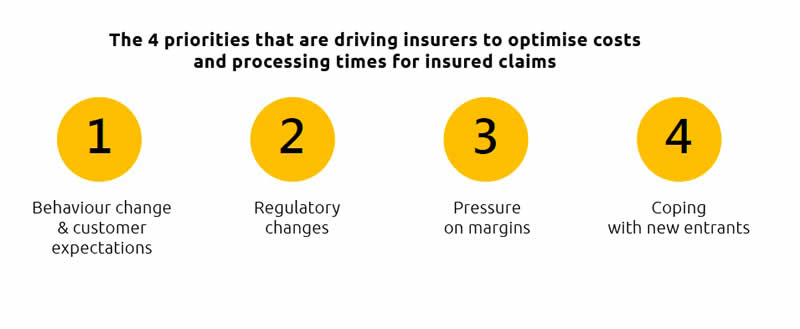 As a result, faced with new demands from customers, productivity requirements and the need to take regulatory changes into account, many insurance companies, in speeding up their digital transformation, are having to optimize their processes to improve customer experience and aim for business excellence.
This ability to construct more digitized business models is becoming all the more necessary to guarantee their resilience during crises or exceptional events.
Business processes that are still only partially digitized
Automation is one of the main levers for doing this. However, while front-office and back-office have been fully digitized in insurance, all business processes between these two areas are only partially digitized even though this is where the reality of the service desired by a customer takes place (subscription, management of a loss or a claim, settlement of allowances, etc.) and where everything is at stake for them and for the insurance company!
With processes standardized to varying levels and a variety of different technologies supporting them, almost 3 out of 4 insurance companies have only automated tasks, with consequences on this partially digitized chain such as bottlenecks, risks of errors and operating costs, all of which are damaging for the customer experience, business efficiency and compliance with regulations!
A "blindfold" attempt at combatting fraud
The survey also shows that 41% of insurance companies today check less than a quarter of insurance claims, while 42% do not even know what proportion of claims are checked.
However, with an estimated 12.9 million euros of fraud per day and less than 8% blocked before payment ***, there is an urgent need to take action!
The need for end-to-end process automation
To gain agility, be capable of delivering new products and services more quickly, deal better with regulatory changes and limit risks as far as possible – including those of fraud –, insurers must now adopt an end-to-end process automation procedure.
This is why ITESOFT is the only operator to offer a Digital Process Automation platform combining information capture and extraction, process automation and risk detection. A procedure that is required now more than ever for digitizing business processes as a whole and making them faster, more efficient and more secure.
Sources: * Survey carried out online by L'Assurance en mouvement from 14 to 17 October 2019 with 176 insurance professionals (profiles: insurance companies, mutual welfare associations, provident institutions, wholesale brokers). ** Statista, 2020 *** Estimates from the Agency against Insurance Fraud, 2019

Thierry Moncoutié
Product Manager
Graduated from the National School of Electronics and its Applications and Bordeaux Montaigne University, Thierry has nearly thirty years of experience in marketing in "IT" environments (with software publishers or in companies of services).