Streamlining and securing the customer journey
As part of its strategy for digital transformation and improvement of customer experience, Carac, an independent savings, pension and provident welfare association has chosen to rely on ITESOFT, the leader in business process automation solutions, to modernize its customer journey and secure its processes against the risks of fraud and regulatory non-compliance.
Originally founded in 1924 by army veterans, the Carac is now an independent welfare association, open to everyone and hosting over 330,000 members of all ages and profiles: seniors, families, young working people...
It was in order to deliver the best service to all its members, at the same time as integrating their new expectations (immediacy, simplicity, digital usage...) as well as increasing regulatory constraints (anti-money laundering and terrorism financing regulations (LCB-FT), Solvency 2, KYC, etc.) that the Carac decided to carry out a genuine transformation of its customer journey beginning by focusing on the membership process which was initially carried out on paper and in person. Myriam Souveton, Carac Marketing & Digital Manager, says:
Until now the membership process required the sending of hardcopy documents, manual examination of the documents by managers, signatures at the branch, etc. We now wish to offer our customers a membership process that is digitized from end-to-end, from the start of the relationship to signing the agreement, in order to optimize, streamline and secure the membership process.
Real-time information capture and automated risk detection
For the successful outcome of the project to change to a 100% digital process, the Carac chose the ITESOFT solution for capture, identification, reading and real-time examination of customer documents and their data. The solution is cloud-based and natively offers ready-to-use shared libraries of standard documents and business process controls for immediate start-up without configuration.
Each document - uploaded by the customer to the Carac web portal, sent by email, or photographed by mobile at the branch by the manager - is therefore captured, identified and then checked in real time by the ITESOFT AI robots in order to verify the completeness of the file, authenticity of the documents, their validity, and thus enable faster processing of the file as far as confirming the agreement by touchscreen or electronic signature. Myriam Souveton comes back to the reasons for choosing ITESOFT:
We needed a solution that would deliver the best automation rates, in real time, capable of covering both information and also regulatory compliance checks and automated fraud detection… and all pre-configured to start up very quickly without calling upon our internal computer system. Only ITESOFT was able to meet all these criteria.
With sometimes up to fifteen supporting documents to process per file (ID Card, Passport, tax statement, family record book, bank details, electricity bills, etc.), the ability to have a shared document base has been perceived as a real differentiating factor :
With ITESOFT, we did not start from zero, the documents and the checks are natively integrated in the offer and based on their business knowledge of the Insurance world. We believe that this is going to save us a lot of time.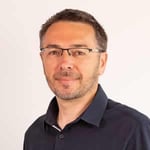 Laurent Olier
Communication and editorial director
Laurent joined ITESOFT in 2000. Marketing Project Director and graduate of IAE Aix en Provence, he has more than 15 years of experience in the production of events, studies and content around dematerialization and process automation.