The digital mailroom is reinventing itself with advanced capture technology
This article contains part of an interview originally published in Archimag (No. 332, March 2020).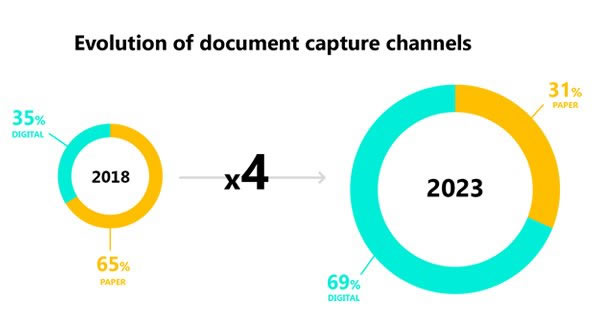 In a time of increasing digitization of interactions and because it is now more necessary than ever for organizations to have valid, exhaustive and reliable data in real time, why should a digital mailroom now rely on advanced information capture technologies?
Issues with electronic management of incoming emails
We are witnessing exponential growth of non-structured content. Over 60% of the information that enters a company or an administration is in the form of hardcopy or electronic documents* and their volume will be multiplied 2 to 4 times by 2021* due to the effect of digitization of exchanges.
Faster extraction of quality data is key for making informed decisions, improving customer experience and increasing operational efficiency. It is not surprising that over 70% of organizations are making information capture a key to their digital transformation*!
How to meet these information capture challenges
Although document capture technologies have been in use for many years in mailrooms to support digitization initiatives in many activity sectors, they now have to reinvent themselves.
Fostering in real time the business processes that organizations wish to automate as much as possible (such as subscription to a service, compensation for a loss, a request for welfare allowances, processing of supplier invoices, etc.), take on the use of new formats and channels (mobile, portals, social media…) and integrate easily in open and scalable information systems is now essential.
Securing exchanges made using documents has now become vital, insofar as digitization increases the risks of fraud and non-compliance.
Not to mention taking into account the latest advances in AI and Machine Learning, in order to guarantee a high level of service.
What ITESOFT offers in digital mailroom
Our digital mailroom solution is based on unique advanced capture technologies characterized by:
A

maximum

automation rate to reduce lead times and FTE,
Immediate

performance through shared learning,
Integration with

fraud detection

services,
The capacity to

natively

connect to solution for

business process orchestration,
An interactive

real time

service to improve customer experience,
Simplicity

of implementation based on the Cloud and web standards.
Thanks to this unparalleled advanced capture, organizations can accelerate their transformation and fully digitize all their business processes, making them faster, smarter and more secure.
It is what makes user supporting documents available to administrators of the Info-Retraite portal operated by Caisse des dépôts in 1 minute (compared to 24 or 48 hours previously).
It is what has enabled Inter Mutuelles Assistance to gain 4.5 FTE to process more than 600,000 supplier invoices per year, with enhanced data reliability. * Sources: AIIM 2019 studies, Gartner & Markess by exægis

Thierry Moncoutié
Product Manager
Graduated from the National School of Electronics and its Applications and Bordeaux Montaigne University, Thierry has nearly thirty years of experience in marketing in "IT" environments (with software publishers or in companies of services).