AP Automation: maximum automation with Inter Mutuelles assistance
"Continuous Innovation, Maximum Automation" is the slogan of Inter Mutuelles Assistance (IMA). From EDI to Capture as a Service, including capture of hardcopy invoices, capture of email invoices, set-up of a supplier portal... Elodie Papet, Manager of the Operational Flows Division for IMA, answered our questions and shared some feedback with us.
AP automation: what are your 3 major benefits with ITESOFT?
With ITESOFT, AP automation at IMA has 3 major benefits:
Productivity: 4.5 FTE for processing invoices at present instead of 12 without the solution.
Increased data reliability. Since only compliant invoices are integrated in SAP, the others are rejected directly by the ITESOFT solution.
And, finally, a reliable audit trail, which allows our controller access to all the data from SAP.
What does invoice processing represent for IMA?
For IMA invoice processing represents a key process, directly related to our business. In fact, IMA is an assistance company operating 24/7 worldwide. Therefore, with each case file, we receive different invoices from a variety of suppliers: breakdown companies, towing companies, hotels, taxis... and often issued by small businesses. In this context, we have clearly identified a strategy for reducing back-office tasks through automation and AP automation.
Can you describe AP automation at IMA in just a few words?
In just a few words, AP automation at IMA: " Continuous Innovation, Maximum Automation". This is our slogan to a certain extent. For several years now we have been rolling out a number of technologies: trailblazers in EDI, then in self-billing... and for several years with ITESOFT: capture of hardcopy invoices, capture of email invoices, but also supplier portal and shortly Capture as a Service. Finally, we try to be practical in our development. As soon as a new technology appears on the market, we roll it out. And, in this ITESOFT has been helping us in our daily work: since 2002, over 600,000 invoices per year have been automatically integrated in SAP with ITESOFT.
Next step: Capture as a Service. Why?
Why Capture as a Service? Basically it is line with our philosophy: continuous improvement, ongoing innovation. It is a new technology, new advances that allow us to see the productivity gains on offer, a pooling of services in AP automation.
What about fraud detection?
Thinking about "invoice data capture" separately from fraud is no longer a reality. Fraud is a genuine issue. At present, with ITESOFT I can see a real advantage, with the technologies that have already been rolled out and with which we would be able to start work very quickly.
Would you recommend ITESOFT?
In view of all these advantages, at the moment I would fully recommend ITESOFT in all AP automation processes but also for automation of internal processes and workflows. It is a genuine tool that now allows us to make the integration of our billing data in SAP more reliable. A tool that also allows us to control our fraud issues. In short, at the moment, we are delighted with ITESOFT.
Processing 600,000 invoices per year with 4.5 FTE instead of 12? It is a success story for Inter Mutuelles Assistance. Discover how in this testimonial.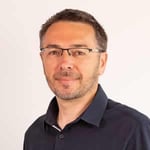 Laurent Olier
Communication and editorial director
Laurent joined ITESOFT in 2000. Marketing Project Director and graduate of IAE Aix en Provence, he has more than 15 years of experience in the production of events, studies and content around dematerialization and process automation.