Document processing: The most comprehensive and efficient cloud solution
While organizations have never had so much need to digitize their exchanges, ITESOFT is innovating with a groundbreaking new generation offer for automated processing of incoming documents.
As a bonus: unrivaled automation performances of 90% and more, the fastest speeds and easy implementation and the widest functional coverage.
A new generation cloud solution
The current context emphasizes the extent to which organizations need to improve customer/user experience, productivity and their business resilience.
To meet these requirements, they have to digitize exchanges and process, from the time of receipt, all customer/user documents in order to provide the business line departments with exhaustive, reliable and valid data as soon as possible. A genuine challenge at a time when the volumes of documents received are shooting up (x4 by 2023 1), arriving via an increasing number of channels (letter, email, portal, etc.) and in non-structured formats (60% of cases 2).
In this context, automating the processing of incoming documents is the only viable solution. To meet these challenges, ITESOFT – the French leader in business process automation solutions, with over a billion documents processed per year by 650 customers – has launched its new generation cloud service for the processing of exchanges, Streamline Documents.
The best performances in automation
Relying on its capacities for innovation and the development of breakthrough technologies, ITESOFT integrates in Streamline Documents a unique combination of AI and OCR technologies and exclusive expert algorithms.
Result: the most powerful capture robots on the market, as attested to by the Pentadoc international benchmark. The service thus delivers unrivaled automation rates of more than 90% thus improving productivity and processing time, which can be reduced 6 times and even more.
The easiest and fastest solution to implement
Making the most of the power of the cloud, Streamline Documents provides a ready-to-use shared document base, the largest in the market (several hundred standard documents), thus making immediate start-up possible with optimal performances, without installation or learning and without the need for expert resources.
Streamline Documents is the only solution that does not require any investment or technical skill for users: the ITESOFT teams constantly optimize the capture robots and the document base to permanently guarantee the best performances.
The widest functional coverage
Streamline Documents brings together all the functions necessary for digitization of the incoming streams from capture (all formats, all channels) to management (numerous reports and KPIs ready to use), as well as automatic data extraction, its automatic controls and robotized fraud detection thanks to the combination of unique technologies at world level.
Benefit: an "all-in-one" solution without limits, ready to meet all the current and future challenges of digitization of exchanges. Thanks to all these unique features, Streamline Documents optimizes the processing of incoming streams and makes organizations more productive, more resilient and able to deliver the best customer/user service. Frédéric Massy, Chief Marketing Officer, ITESOFT, explains:
Organizations are abandoning on-premise solutions for processing incoming documents that are too complex and expensive to maintain and give random automation performances. They are looking for turnkey solutions that provide maximum, immediate results, without having to invest in skills outside their core business. This is precisely what Streamline Documents responds to and it is unique in having such completeness and performance.
Sources : (1) (2) Source : AIIM, 2019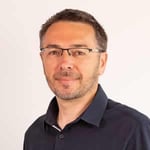 Laurent Olier
Communication and editorial director
Laurent joined ITESOFT in 2000. Marketing Project Director and graduate of IAE Aix en Provence, he has more than 15 years of experience in the production of events, studies and content around dematerialization and process automation.