SUMMARY:
Introduction
Case processing: at the heart of business
Challenges
A key component of the customer experience
KPI
Potential for productivity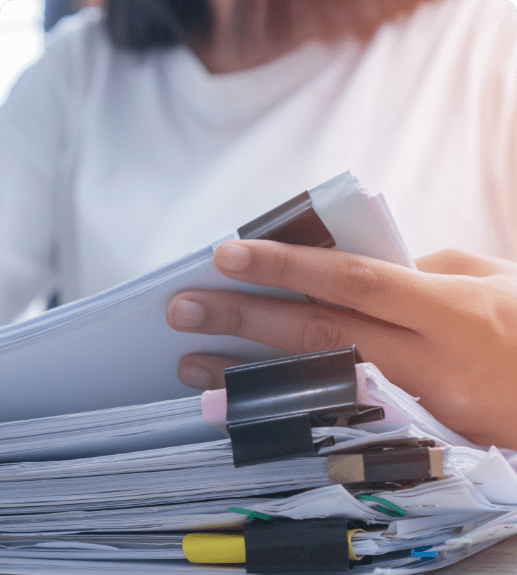 Introduction
Case processing: at the heart of business
For many public and private stakeholders (banks, insurance companies, mutual welfare associations, public assistance bodies, etc.), case processing represents the majority of the processes that they carry out.
Whether it is a case of processing a membership application, an insurance claim, a mortgage application or an application for state benefits… all these processes consist of "collecting data" for the files.
This involves the collection of documents and supporting evidence, which has to be sorted, analysed, checked, etc., and follow-up actions with customers in the case of incomplete case files. A step that is essential but time-consuming.
And the multiplication of regulatory constraints (AML/CFT, Solvency, KYC…) that impose new compliance checks merely adds to the burden in terms of costs and case processing times.
Automating case processing makes it possible to speed up and secure the collection of documents (compliance, fraud, comprehensiveness) and ultimately focus on decision-making.
"Previously, the documents automated in the mailroom were available to managers 24 or 48h later… With interactive capture, they are ready right away!"
Florent Juillet de Saint-Lager
IS Architect, Caisse des dépôts
Challenges
A key component of the customer experience
The customer journey is a major issue, whereas products and prices are no longer differentiating factors for customers.
Meanwhile, who has never had an unsatisfactory or even stressful experience in sending paperwork to their insurance company, bank or a state benefits body?
Lack of visibility, channel breakdown, lengthy response times…the customer journey thus becomes a battle. The risk of a customer abandoning their pending request or even turning to competitors is therefore real.
According to a recent survey (Markess - ITESOFT, market survey 2021) 58% of managers would like to digitise the customer journey within 2 years. The key to success: offering a digital, interactive and seamless experience.
Offering an interactive service for filing documents is decisive. It allows customers/users to be participants in the process by filing their documents online in an intuitive and ergonomic environment.
The interactivity of the service is essential here: this involves intelligent document processing robots that are capable of real-time checking of the validity and compliance of the documents. In the event of missing documents or those that are inconsistent with each other, the customer is informed right away and can correct the case file him/herself.
Through this intelligent, real-time customer support, the entire quality of the relationship is improved. Since the managers have qualified case files available more quickly, they can thus concentrate on replying to the customer.
KPI
Potential for productivity
Because it is still mainly carried out manually, case processing has incredible potential for productivity. A Markess 2021 survey of the main insurance companies showed that:
Case processing represents

40% of managers' time
And 80% of the processing time is spent on collecting documents 
Automating all these tasks (sorting, input, compliance checks, customer follow-up in the case of incomplete or non-compliant case files…), gives managers so much time that they can reallocate to replying to case files with enhanced quality and productivity.
Automation and systemisation of checks on all documents also makes it possible to comply with regulatory constraints and to be armed against fraud risks without any extra cost or impact on customer experience.
Thus, while the challenge of profitability has never been so tough, automation helps organisations to "do more with less": more services, more efficiency, more regulatory compliance, etc. with less time and fewer financial resources.
La gestion des réclamations, enjeu et levier de l'expérience client
88 % des entreprises ont ainsi un service dédié au traitement des réclamations, d'après une enquête...
Crédit à la consommation, entre évolution des comportements clients et...
Malgré le faible coût des crédits, le marché français du crédit à la consommation, qui progressait...