Procure-to-Pay: The 5 Challenges of Digitalisation
Like 60% ¹ of finance decision-makers, you must be convinced of the importance of digitising the Procure-to-Pay (P2P) process. Productivity, auditability, traceability, risk management, resilience… the benefits are many. The question is no longer if, but "how"? If you do not want to just digitise, but also want to reach the level of the best-in-class, the following series of articles are for you. With more than 1,000 successful projects, our experts share with you the 5 key areas of Procure-to-Pay that you absolutely must master to fully succeed in your digitalisation journey. 5 key points that change everything - and we'll tell you why in detail!
Key factor N°1
Maximum automation: the bottom line!
The invoice is at the core of the Procure-to-Pay process. Extracting reliable and comprehensive data as easily and accurately as possible is essential! The good news: To automate the extraction of this information, our robots can "read" invoices to extract useful data, and these technologies are powerful and proven. Every additional percentage of automation counts... And much more than you think! We'll prove it to you with numbers to back it up.
Key factor N°2
Fighting back against fraud
Research has found 7 out of 10 companies were victims of fraud in 2020 with losses of up to several million pounds. What financial decision-maker can accept this risk when it is so difficult today to gain a growth point? Only a very small number of companies get the money (or profit) back, so why put yourself in that position in the first place? This article returns to 3 fundamental questions: What are the main types of fraud? How to systematically detect them? Why Procure-to-Pay digitalisation is key in this fight against fraud?
Key factor N°3
Put supplier relations in the centre
Having a good relationship with suppliers is a key performance lever! Here again, the digitalisation of the Procure-to-Pay process has an essential role to play. Electronic invoicing, supplier portal, SRM ... knowing how to orchestrate the right levers can allow finance departments to win on all fronts: regulatory compliance (payment deadlines, vigilance, etc.), improvement of the quality and fluidity of exchanges with suppliers, additional productivity gains for accounting teams... Want to know more?
Key factor N°4
Optimise and adapt your processes
Launching a Procure-to-Pay digitalisation project is a great opportunity to transform and simplify your operating method, optimise it and make it more "adaptable", because your current organisation will not necessarily be the same in 6 months: ERP change, acquisitions, merger, reorganisation…
The question is: How do you ensure that you can adapt simply and quickly to these future developments and always have the most efficient P2P process?
Key factor N°5
Anticipate regulatory and technological developments
RPA, IA, Blockchain... Making Tax Digital, Prompt Payment Code... The P2P technological AND regulatory environment is constantly changing, and this makes it more expensive and time-consuming! To be effective, any process for digitising the Procure-to-Pay process must take this into account. In this article, you will find out what is the best possible strategy to welcome new invoice formats or new technological opportunities in the future. And what this concretely implies for P2P process digitalisation. Spotlight on one of the key essential factors of the Procure-to-Pay!
(1) PwC – Priorities of Finance Directors, 2020 (2) Study Euler Hermès - DFCG 2020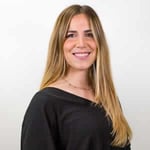 Paola Monteverde
Campaign Marketing Manager
Holder of a master's degree in Marketing and Communication and more than 5 years of experience in the B2B sector, Paola joined ITESOFT in 2020. Her great interest in new digital trends and new technologies and her close work with the sales and business development teams, have been a key factor in ITESOFT's growth in the UK.