DM Awards 2018 : ITESOFT UK proud to announce that Streamline Invoices is named Accounts Payable/Invoicing Product of the Year
23rd November 2018 – Woking, Surrey
ITESOFT, a leading provider of solutions for Finance Process Automation, are proud to announce, today, another award winning year at the annual Document Manager Awards 2018. Following on from many years of success, 2018 delivered an award for ITESOFT in the following category: Accounts Payable/Invoicing Product of the Year for Streamline Invoices This award highlights ITESOFT's continued focus on developing the very best solutions for Accounts Payable Automation making use of the very latest advances in Robotic Process Automation (RPA), Intelligent Capture Recognition (ICR) and Artificial Intelligence (AI). Nick Dunnett, Managing Director of ITESOFT UK said:
After a wonderful gala dinner in London, winning an award for Accounts Payable/Invoicing Product of the Year shows that, even as technology continues to advance at such an incredible pace, ITESOFT are able to continue to deliver the very best solutions for our clients. Ensuring that they are able to keep ahead of the technology curve and continue to see the great results and savings automation can bring.
Streamline Invoices
A new generation platform for more agility. With this new, packaged, invoice processing solution, available as a cloud service, on-premise or hybrid mode, ITESOFT offers a new generation of services that break with traditional digitalisation solutions paving the way for supplier process excellence.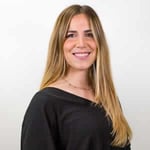 Paola Monteverde
Campaign Marketing Manager
Holder of a master's degree in Marketing and Communication and more than 5 years of experience in the B2B sector, Paola joined ITESOFT in 2020. Her great interest in new digital trends and new technologies and her close work with the sales and business development teams, have been a key factor in ITESOFT's growth in the UK.